Last Updated on April 12, 2023 by Barry Gray
With their ability to make cuts that many saws can't do, it's no surprise as to why miter saws are such a popular tool with people around the world. Miter saws can be incredibly large and heavy tools, however they're a necessity for any serious woodworker.

If you don't have time to read this miter saw stand guide, we have you covered with a quick overview of the builds we've discussed today. You can find this below:
Miter saw stands can be built regardless of experience, however it's best to stay with a plan that matches your skill
Unlike the cost of a manufactured miter saw stand, these DIY designs are much cheaper to purchase and build
These plans are incredibly versatile, and can be modified to suit your needs and space available in your workshop
Elevel miter saw stand plans are included in this guide, with a plan available for any experience level and budget
As important as a miter saw is, you need a good foundation to place them on. What's the best base for this? A miter saw stand. Miter saw stand at its best is sturdy base with minimal vibration, with a large enough cutting space for all projects you're looking at attempting.

Of course, it's easy to buy miter saw stand from manufacturer – yet where is the fun and satisfaction in that?
Also, it can be a much cheaper alternative to design and build your own miter saw stand – and that's what we're looking at today.

Miter Saw Stand Plans
It's important to note that, firstly, you should be aware of your own experience level and capabilities before attempting these miter saw stand plans.

Some of these designs are made for the beginner, and can be created in a matter of hours. Some of them, however, are best left to the more experienced craftsmen – however that's not saying you can't attempt them, they're just more difficult to tackle.

I've chosen 11 miter saw stand plans, designed for a mix of all experience levels, and at all sizes.
Let me know what you think of these in the comment section at the bottom of this article
The first of our DIY miter saw stand plans, is this relatively simple build designed by Whitney Gainer.

It's a larger miter saw bench, with plenty of storage space available. This is perfect for any additional accessories you'd like to store, as well as optional hooks for accessories to be hung on the outside of the table itself.

Portability is another bonus for this DIY miter saw stand plan, with four wheels able to be attached – and these wheels can be interchanged in order to suit your environment, should you need to do so. It also features a raised bench to align with your miter saw, giving you more room to cut longer boards on.
This rolling miter saw stand is designed on buildsomething, and is a compact yet sturdy build. It's built to house not only your miter saw, but also any additional tools you wish to attach, thanks to added hooks under the wings of the stand.

The extendable wings are one of, if not, the best feature of this miter saw stand. 20" of additional, extendable wing space will give you plenty of room to hold and cut long boards, and these support wings can also be removed.

As well as the removable wings, a smooth rip fence is designed to lock your boards into place, so you can be assured that your stock will be safe in place. Added to this, are two wheels at the back of the base of the stand, perfect for portability when moving around your workshop.
Miter Saw Table With Workbench Hardware Kit
Designed by Ayisha from The Pursuit Of Handyness, this miter saw stand is a modifiable workbench with a great amount of space for cutting longer boards, and storage space for any odds and ends you may have lying around.

One of the best aspects with this miter saw stand design plan is its versatility for additional features. You're able to add any attachments you may need, such as fasteners and connectors to name some examples.

Two raised shelves can be measured to align perfectly with your miter saw, giving you an additional 36" of space to cut longer boards upon. Better yet – is that this design can be built for a range of intermediate of expert experience levels, and if you're anything like me – will love the versatility aspect of this design.
From the folks at Wood Archivist, is one of the most daring miter saw stand plans available to design. Unlike some of the designs found in this guide, this isn't a stand to be attempted by beginners.

It features six wheels for optimal portability, as well as six storage and scrap boxes, and an integrated, tool activated switch for your miter saw. The platform itself for the miter saw is adjustable, and the space underneath can fit a vacuum with up to 16 gallons of capacity.
Due to the large build, there are a number of materials you'll need to purchase, however all of these can be found relatively cheaply. You'll need additional power tools to build this – yet this'll definitely be a great test of your woodworking skills, and a satisfying one at that.
This folding miter saw stand designed by April Wilkerson is both aesthetically pleasing and incredibly functional.
Not only is this miter saw stand build portable, it also includes folding wings, which means it'll take up as little space as possible within your workshop when not in use.

These plans that April has included are easy to follow, and can be adjusted to suit your specific needs. With the original design, it's beginner friendly, featuring a very handy walkthrough tutorial.

The scrap box underneath the bench is perfect for additional pieces, but for me – the real winner of this design is the wings which can be folded thanks to the addition of piano hinges. These wings are 22 ⅜" wide, and are great for longboards.
We've looked at one of the larger and more complex builds within our list, and now we'll be looking at a second, similar design.

This is a miter saw stand design from the folks at PopularWoodWorking, and is a large design with an extremely spacious wing capacity for any board you could possibly look to cut -with 30" on each side, as well as being easy on the eye.
It contains an adjustable saw platform with a mount, and a large cabinet with plenty of storage space. An innovative aspect of this miter saw stand plan is the automatic vacuum, which will switch on automatically once properly sat up.
For its' complexity and size, the entire design can be done without impacting your budget, which is a great bonus, isn't it?
Another large design with a large array of intricacies, this mobile miter saw stand plan from WoodArchivist is inrec dinly detailed, and features a lot of versatility with the design itself.
It's not just a bare bench – this design goes the whole way. Drawers and sturdy casters for mobility are some of the included features, as well as a removable saw platform, folding wings, and a dust collection box with an integrated tool actuated switch to name a few.
If you're just starting your woodworking journey, I'd probably advise against attempting this design, as it is incredibly complex for those who aren't as experienced. If you have some experience under your belt and are looking to create a miter saw stand with everything you can possibly need, this is the plan for you.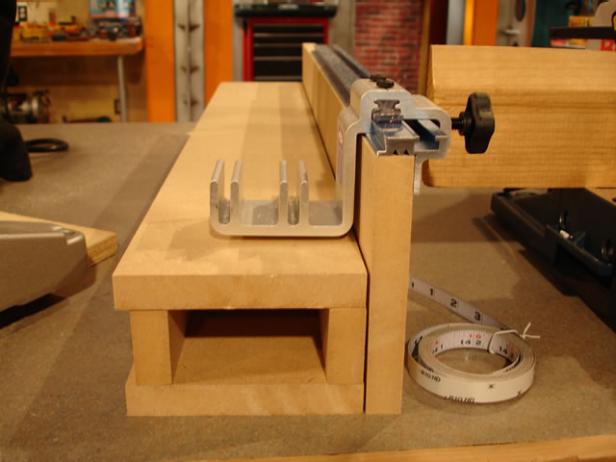 If you don't have an adequate fence when designing your own miter saw stand, you're going to come into a lot of troubles when working on your boards. This plan features more so on the importance of the fence, and how to build a large fence that is also quite stable.

The best thing about this plan? This fence can be added to almost any of your standard bases, for example – a cabinet, should you feel the need to do so. This can also be used in addition to one of the miter saw stand plans found in this guide.

This large fence design will eliminate the hazard for flying projectiles, as well as the ability to add markers and angles onto the board for a visual representation, and this is incredibly useful for working with difficult angles.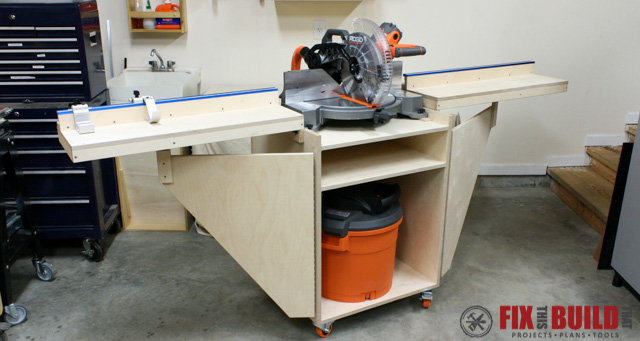 This mobile miter saw stand build is designed to fit a 12" miter saw, however Brad from FixThisBuildThat has allowed amendments to be made if you're looking to fit to a 10" or smaller miter saw.

One of the most noticeable features of this miter saw stand build safe the wings, which can be extended up to 93" x 39" when in use, and also folded compactly when in storage.
It features an open shelf, which allows for storage of a vacuum should you wish to add one. If you do, you're able to connect this to the saw for effective cleanup of dust. What are your thoughts on this addition?
What's that? You like drawers?
Well, you'll definitely enjoy this miter saw stand build. Featuring a massive 26 drawers, this design is perfect for storage of almost any accessories you may have lying around the workshop.

Not only does it feature drawers, but also holds a sliding fence on a T-track, a drill press and spindle and belt sander, and two easily accessible dust collection blast gates. It isn't just a miter saw stand built, but a station that'll please any woodworking enthusiast.

Designed by hobbyist Moy Perez, this miter saw stand will give you 106" of space to work with in width – which is great news if you're looking to work with long boards. It's 37" tall, and 29" deep, and should definitely be a design to attempt if you're serious about what you do.
To round up our miter saw stand plan guide, we have a favorite of many woodworking hobbyists, and that's the barbecue cart miter saw stand.

This is a favorite of many due to ease of build, and the innovative design or turning an old barbecue cart into something incredible useful. It won't cost a fortune to build, and also won't take much of your time to design, regardless of your experience level.

Unlike some of the mammoth designs we've covered in this guide, you won't have as much space as those with this design to make cuts, however it's efficient enough to get the job done – plus, it's portable too, thanks to the original wheels of the barbecue cart.
The Round Up
So we've had a look at some of the most innovative and functional miter saw stand plans that you can design, and what are your thoughts on these?

Some of these designs are tailored for the experienced worker, and some are perfect for the beginner. I'd definitely recommend you be aware of your woodworking abilities before attempting these, as frustration and woodworking is not a great mix.

The best thing about these DIY designs are exactly that – they are done by you, and for your own needs. The satisfaction gained in designing and building your own projects are great, and will give you a great deal of confidence in moving forward with any other projects you look to begin.

What is your favorite plan out of the miter saw stands we've covered? Also, what is your favorite additional feature that you'd like to add if you were to build one?

I know our readers are a creative bunch, so I'd love to hear your thoughts. Drop us a comment in the section below.
Frequently Asked Questions
How long would it take to create these miter saw stands?
This depends on the miter saw stand you're looking to design, and your experience level. Some of these can be made in as little as four hours, whereas some will take a couple of days. Be patient and follow the instructions laid out – that would be my best advice!

What materials will I need?
Again, this will depend on the design, and also the wood you're looking to build with. Generally, most of these miter saw stand plans come with a material list – so it's best to follow them and adjust where you see fit.